Woman Stole Benefits From Homeless Teen After Dad Died: DA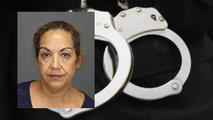 A Westchester woman stole Social Security benefits from a teen she and her husband took in from a children's shelter, officials said.
The teen, who'd spent time in jail, had been living at a sanctuary shelter called Children's Village in Westchester when Suzanne Pope and her husband took him into their Hawthorne home in May 2015, the Westchester County District Attorney's office said.
A few months after the teen started living with them, his father died and he became eligible for Social Security survivor benefits, the DA's office said.
Pope applied for the benefits on the teen's behalf, and Social Security started depositing $1,565 per month into a debit account for him.
But Pope kept the debit card Social Security sent the teen instead of giving it to him, and when he moved out in March 2016 and stopped going to school — disqualifying him from receiving the benefits — she kept getting the money and using the card, according to the DA's office.
Pope ended up stealing more than $13,000 in benefits from the Social Security Administration between April and December of 2016, the DA's office said.
She has been charged with grand larceny in the third degree, and is expected to appear in court on Oct. 11.
Photo Credit: Getty Images/Westchester County District Attorney's Office