Early-Morning Water Main Break Floods Brooklyn Block: FDNY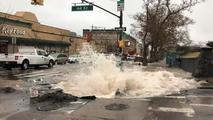 A water main break flooded a Brooklyn block early Sunday morning, the FDNY said.
The department got a call reporting the water main break at 44th Street and 5th Avenue in Sunset Park around 3 a.m., it said.
Video taken at the scene showed significant flooding in the area.
The city's Department of Environmental Protection was at the scene investigating, a spokesman confirmed.
The department had shut off the water, stopped the leak and begun repairs to the water main as of around noon on Sunday, the spokesman said.
Photo Credit: News 4/Ken Buffa
This story uses functionality that may not work in our app. Click here to open the story in your web browser.