4 Teen Girls Shot During Vigil in Newark; 1 Critical: Police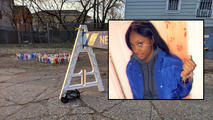 Four teenage girls were shot in Newark Saturday night — one of whom is in critical condition, officials said.
The girls, who ranged in age from 16 to 18, were shot near Bergen Street and Madison Avenue just after 9:15 p.m., authorities said.
The girls were lighting candles at a makeshift memorial for two teenage boys who died in a crash involving a stolen SUV on Friday when they were shot, authorities said.
Three of the girls were shot in the leg and are listed in stable condition at the hospital, police said.
One of the girls, who was shot in the head, was in critical condition, according to police.
The mother of the girl listed in critical condition told News 4 her daughter Jayla Green, 16, is a cheerleader who loves music and fashion. 
No one had been arrested in connection with the shooting as of Sunday morning.
Police didn't immediately provide additional details about the circumstances surrounding the shooting. The incident is under investigation.
Anyone with information about the shooting is asked to call the Newark Department of Public Safety's tip line at 1-877-NWK-TIPS.
Photo Credit: News 4