Actor Snatches Trump Flag From Audience at 'Frozen' Show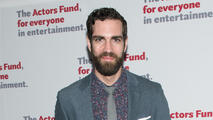 A 'Trump 2020' flag was snatched from the hands of an audience member by an actor performing in the "Frozen the Broadway Musical" Wednesday.
The actors were doing their bows during the encore at the St. James Theatre when the audience member in the front row starting waving the flag.
Seeing it, actor Timothy Hughes — who plays Pabbie the wise troll in the musical — snatched it and threw it behind the stage.
In an Instagram post on the incident, Hughes said he was unapologetic.
"What does it say about our country and politics when a man at the show tonight felt the need to protest Disney's Frozen on Broadway with a pro Trump flag?" he said. "How frightening is it that our show's messages of love, acceptance, and diversity have become the opposition to supporting Trump?"
Hughes added that the curtain call was supposed to be a final connection between audience and actors, and he wouldn't have his cast be interrupted.
"I will not apologize for how I responded to the disrespectful man trying to interrupt this moment with a pathetic political platform. Not at our show!"
Celebrity blogger Perez Hilton also tweeted the video to followers. 
"Frozen the Broadway Musical" is a show adapted from the blockbuster Disney film. It follows Anna, mountaineer Kristoff and his reindeer sidekick to find Anna's sister, Snow Queen Elsa, and break her icy spell.
"Frozen the Musical" director Michael Grandage has been contacted for comment.
Photo Credit: Getty Images