Boy, 5, Left Alone on Bus for 7 Hours During Dangerous Cold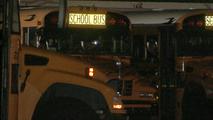 A 5-year-old Delaware boy was left behind on a school bus for hours during dangerously cold temperatures.
"I was very scared," Ibn Polk told NBC10.
The kindergartner was on a school bus headed to Linden Hill Elementary School in Wilmington Tuesday morning. Ibn fell asleep on the bus however and never got off. Officials said the bus driver never did her usual sweep after the other children were dropped off at school. She also allegedly ignored the other students when they told her a boy was still on the bus.
A spokeswoman for the Red Clay School District told NBC10 the school made a mistake by not calling his parents when he was marked absent Tuesday morning.
"Clearly that was a fail on our part," Pati Nash of the Red Clay School District said. "The mom and the dad should have been notified."
It wasn't until about seven hours later when the driver was making her afternoon rounds to get students that she heard Ibn cough. She then realized he had been on the bus the entire time. His parents were then notified.
"She could have came back to the bus," the boy's father, Abdul Polk, told NBC10. "What you want a dead child now? It was cold. It was freezing."
The boy's parents said he was soaking wet and had urinated on himself by the time he was found.
A spokesperson for the Sutton Bus Company said that the driver was fired. The boy's parents will attend a meeting Friday to watch surveillance video of the incident. Ibn, meanwhile, is doing well after the incident.