Brain-Freezing Cold, Biting Wind Grip Tri-State; Worst Today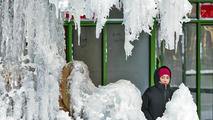 An arctic blast gripped the tri-state Thursday, sending wind chills plummeting well below zero, closing dozens of schools, fouling the commute and leaving winter-weary locals dreaming of the massive warmup to come next week.
The air was so cold that the National Weather Service warned of frostbite with as little as 30 minutes of exposure. Wind chill warnings and advisories cover virtually the entire region through mid-morning, and even by afternoon single-digit feels-like temperatures will be the norm.
JFK Airport's low temperature of 3 degrees shattered a record that had stood for 42 years.
(Click here for all severe weather alerts. More than 100 schools around the tri-state were delayed Thursday. Click here to check your district.)
As of 7:45 a.m., wind chiils were down to -17 degrees at JFK, and -15 degrees at Newark Airport, where firefighters were battling a massive blaze that incinerated at least a dozen cars.
Every single one of the nearly 20 reporting locations listed by the National Weather Service had a wind chill that was in the double digits below zero. 
The weather improves slightly on Friday, bouncing back up to a comparatively balmy 24 degrees, then should rise above freezing Saturday. By Tuesday, highs will be near 60 degrees. 
Photo Credit: AP
This story uses functionality that may not work in our app. Click here to open the story in your web browser.