Crowds Swell at Penn Station Amid NJ Transit Delays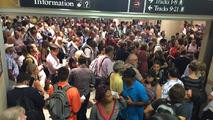 New Jersey Transit service in and out of Penn Station in Manhattan is experiencing delays of up to 45 minutes because of earlier fire department activity near Secaucus, officials say. 
The brush fire was reported near Secaucus Junction Wednesday evening. NJ Transit first tweeted about 15-minute delays at around 6:15 p.m. Delays were then reported to have subsided — but by 9 p.m., ticked up to 45 minutes. 
Check the latest NJ Transit service update here. 
Angry commuters tweeted photos of a crowded waiting area at Penn Station, with boards across train lines reading, simply, "Stand by." 
"Another wonderful commute home… so glad I ran in the heat and humidity to catch the NJ Transit," said Mike Cardano. "At this point if I get home while it's still today, it will be a moral victory." 
"The people who run this railroad should be ashamed," said Brian O'Leary. "No communication. No explanation." 
[[418243733, C]]
Photo Credit: Mike Cardano