Infernos Devour Cars at Newark Airport, 2 Buildings in NYC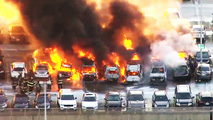 A raging inferno engulfed more than a dozen cars in a Newark Airport parking lot early Thursday, spewing thick black smoke into the air as high-powered flames turned vehicles into charred carcasses.
A law enforcement source tells News 4 a total of 17 cars were burned, all but two of them totaled. It wasn't immediately clear what sparked the fire. Chopper 4 over the scene showed firefighters standing near the flaming vehicles, trying to battle the blaze in wind chills as low as -15 degrees. The Port Authority said the lot involved in the fire was regular parking at Terminal C, not long-term.
It also said no injuries were reported and airport operations were not affected. The passenger pickup area in the immediate vicinity was briefly closed, and the fire-wrecked Terminal C parking garage was shut down until further notice. Anyone who may have been parked in the garage is advised to head to the Terminal C Level 1 taxi stand for further assistance, the airport's official Twitter feed said later Thursday morning. 
Fires also tore through buildings in Brooklyn and the Bronx early Thursday. In Brooklyn, huge flames devoured a one-story vacant warehouse on Vernon Avenue shortly before 4 a.m., sending thick smoke across the neighborhood and into nearby homes, witnesses told News 4.
About 170 firefighting personnel responded to the five-alarm scene near the elevated subway tracks. Train service wasn't affected, but the smoke rose all the way to the rails. Nearby apartments were not evacuated. 
Witnesses described a stench that made them feel as if they were in the middle of a bonfire. 
Less than a half-hour after the Brooklyn fire erupted, firefighters got a call about a two-alarm fire at a Richman Plaza high-rise in the Bronx's Morris Heights neighborhood. Emergency transmissions indicated the fire broke out on the fifth floor of a 46-story mixed-occupancy building.
No injuries were immediately reported in either of the New York City fires, causes of which were under investigation.
Meanwhile, a seven-alarm inferno that ripped through a paper mill in New Jersey's Elmwood Park on Wednesday continued to burn early Thursday, more than 12 hours after it started spewing smoke that was seen miles away.
Firefighters encountered difficult conditions as water they tried to use to douse the flames turned to ice in the sub-zero wind chills. About 200 employees were working at the facility of the time, authorities said; no one was hurt in that case either. 
Photo Credit: News 4