Man Beaten in Apartment Lobby in Brooklyn: NYPD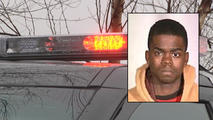 A man was beaten so badly in the lobby of a Brooklyn apartment building that his nose and eye socket were broken, police said. 
Police identified the suspect as 31-year-old Lytee Knox Hundley. 
The 62-year-old victim was in the lobby of a building on Tompkins Avenue in Bed-Stuy at about 6:30 p.m. Friday when the attacker approached him and started beating him, the NYPD said. 
Police sources tell News 4 New York that video of the attack was posted to social media. 
The victim was treated at Woodhull Hospital for a broken nose and eye socket, police said. 
Anyone with information is asked to call the NYPD's Crime Stoppers Hotline at 1-800-577-TIPS (8477).