Mayor's New Plan to 'Eliminate' Child Lead Exposure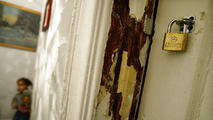 Mayor Bill de Blasio has announced a plan aiming to "eliminate" childhood lead exposure.
The LeadFreeNYC initiative, announced Monday, will require apartment inspections for potential hazards like peeling paint, test all children under three years old for lead exposure and target unsafe goods, among other measures. All programs are set to be in place within 24 months.
"Childhood lead exposure is preventable—and this is a plan to eliminate it altogether," de Blasio said in a statement. "With LeadFreeNYC, we will target every source of exposure, every apartment and every child."
NYC will also hire a Citywide Lead Compliance Officer to oversee the implementation of this plan.
"We will be there for kids and parents every step of the way, until we drive this problem to zero," de Blasio added.
Photo Credit: Getty Images