Multiple Passengers Sickened on Emirates Flight to JFK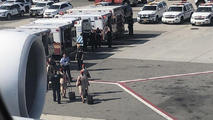 About 100 passengers on an Emirates flight to John F. Kennedy Airport reported feeling sick on board the flight Wednesday morning, airport sources say.
Photo Credit: Larry Coben
This story uses functionality that may not work in our app. Click here to open the story in your web browser.