Storms Possible Today, But Worse Weather Expected Wednesday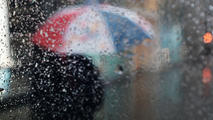 Warm and muggy weather returned Tuesday — and with that, the chance for spotty afternoon showers and thunderstorms. Storm Team 4 says the volatile weather pattern is expected to linger through much of the week, with Wednesday expected to be the stormiest day across the tri-state area.
Tuesday started off quiet and dry but stickier than Monday. By midday, the air in Rockefeller Plaza felt like soup, the skies turning ominously gray as it started to drizzle. Intermittent showers and storms are expected in the afternoon and evening hours and while Storm Team 4 says no severe weather is expected, some areas could see brief, heavy rainfall at times during the evening commute.
Track the storms using our interactive radar below. 
Wednesday is expected to feature a similar start to the day, though it'll be a touch muggier and more widespread storms are expected in the afternoon and evening hours. Some severe cells could develop Wednesday, triggering torrential rain, damaging winds and flash flooding in low-lying areas.
While most of the storm activity should move out overnight into Thursday, a few isolated showers are still possible. Bright and beautiful weather is expected to return just in time for the weekend, Storm Team 4 says. 
Photo Credit: Getty Images
This story uses functionality that may not work in our app. Click here to open the story in your web browser.