Strong Storms Lash Tri-State With Lightning, Driving Rain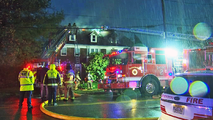 A line of strong storms besieged the tri-state area overnight, pounding the region with driving rains, thunder and lightning — including a bolt that may have sparked a New Jersey house fire — and stranding tens of thousands in the dark. 
Tornado watches and severe thunderstorm warnings in effect for millions across the tri-state area had been lifted by 6:30 a.m., and Storm Team 4 said the severe weather threat had ended. The storm caused some wind damage in spots and lightning was being eyed in a Rutherford, New Jersey, house fire.
Power lines and trees were felled by strong winds, and those winds caused problems for the morning commute. NJ Transit's entire North Jersey Coast Line service was suspended due to a downed tree near Middletown early in the morning, and tens of thousands of people were reported without power. 
The heavy rain moved out fairly quickly , showers redeveloped before 10 a.m., first hitting parts of New Jersey and then battering midtown Manhattan with torrential downpours for a brief period of time. Skies are expected to brighten later in the day, though the wind will pick up, with gusts up to 50 mph possible at various times through the evening hours. 
Temps should hover around 64 degrees Monday and then creep up slightly, with Storm Team 4 predicting temps around 66 degrees Tuesday and Wednesday under sunny but breezy skies. The chance for storms returns Thursday.
Get real-time commute updates from all your key transit sources below.
This story uses functionality that may not work in our app. Click here to open the story in your web browser.