Sweltering Heat, More Storm Risk Today as Temps Hit Mid 80s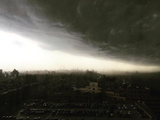 More gusty thunderstorms are expected to slam the tri-state area Monday, as unseasonable warmth (for a change) brings atmospheric instability that could trigger a mess for the evening rush, Storm Team 4 says.
Temperatures are expected to climb to the mid 80s, roughly 10 to 15 degrees above normal after a spate of unusually cold weather, Storm Team 4 says. Central Park had hit 79 degrees before noon, while LaGuardia was already over 80. An approaching cold front will cool the mercury back into the 70s Tuesday, but that same front could cause severe storms to develop Monday afternoon.
The main threats are damaging winds and locally heavy downpours during the evening commute, Storm Team 4 says. Once the front swings through, showers and storms will move out, paving the way for a more comfortable air mass.
Track the storms using our interactive radar below. 
After Monday's storms, the weather should be breezy, bright and beautiful through the middle of the week. Clouds return by Thursday, but temperatures should stay seasonable in the mid 70s through Friday, Storm Team 4 says. 
See all the latest weather alerts here. 
Sunday night was a different story, as strong storms brought intense lightning and damaging winds to parts of New York and New Jersey. Video showed significant lightning lighting up the sky in parts of those states, and the National Weather Service received reports of trees down in Orange County. 
The weather also disrupted air travel. About 30 percent of flights in and out of Newark and LaGuardia airports were delayed, according to FlightAware.com. 
Photo Credit: @louisiananyc / Instagram
This story uses functionality that may not work in our app. Click here to open the story in your web browser.