Wintry Mix Moves in Late, Could Mean Sloppy Tuesday Commute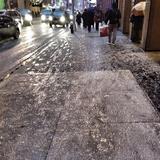 A messy wintry mix is expected to hit the tri-state area overnight, making for sloppy commutes Tuesday morning, especially for those who live north and west of Route 280, Storm Team 4 says.
A winter weather advisory has been issued for a number of New Jersey counties as well as Ulster, Sullivan and Greene counties in New York. Check the latest severe weather alerts for your neighborhood here. 
According to Storm Team 4, most of Monday will stay dry and frigid across the region, though some spots could see light snow later in the evening. Steadier snow and rain showers will likely arrive late Monday into the overnight hours.
Temperatures are expected to rise overnight, which means light snow is expected to change over to mostly rain early Tuesday. For those north and west of the city, though, the rain-snow mix will hang on a bit longer, making for a slippery morning commute. Areas north and west of Route 280 could expect to see at least a slushy coating to an inch of snow, along with some ice glazing over surfaces in some spots. Higher elevations in Sullivan and Ulster counties have a chance to see accumulation of more than an inch of snow, Storm Team 4 says.
Lingering rain showers will ease up by the middle of the day Tuesday, but skies stay cloudy as highs climb back into the upper 40s. Another burst of showers is expected to move through in the evening before winds pick up and clouds break later at night. Cold and blustery weather returns by the end of the workweek, but Storm Team 4 says it's expected to stay dry and have more sun each day.
This story uses functionality that may not work in our app. Click here to open the story in your web browser.