Cuomo is shutting down the L Train shutdown!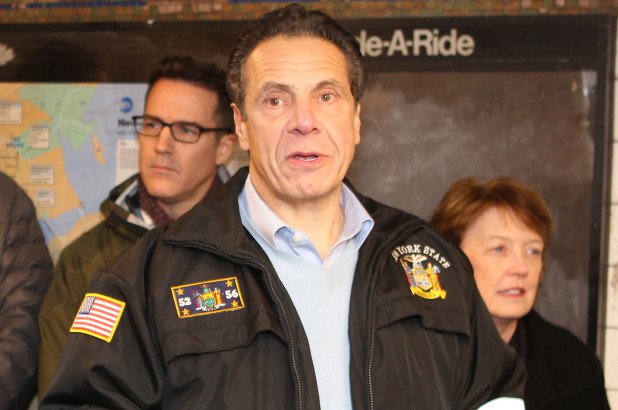 We need one of those red sirens the Drudge Report uses. In a press conference today, Cuomo announced that he will be halting the L Train shutdown in favor of a piecemeal approach to the repairs that will keep the line running. We're not sure why it took him so long to assess the MTA's insane shutdown plan, but this is great news!
Less than a month after deeming the 15-month total shutdown of the L-train tunnel linking Manhattan and Brooklyn "vital," Gov. Andrew Cuomo on Thursday backpedaled at the 11th hour and announced a piecemeal approach that will allow the line to still run 24/7.

Rather than the long-anticipated complete year-plus closure of the tunnel — which was expected to plunge cross-borough commutes into chaos starting April 27 — Cuomo backed a longer-term overhaul that would close one of the tunnel's two tubes at a time on nights and weekends, leaving the line fully operational during weekdays.

"The simple fact is you have roughly 250,000 people who are going to need another way to work," Cuomo said at a Thursday press briefing. "Fifteen months sounds like a relatively short period of time, but it's not if you're doing it one day at a time trying to get to work."
More from Gothamist:
Governor Cuomo, joined by his experts, tells reporters that thanks to "a new design," the L train shutdown does not need to stop service between Brooklyn and Manhattan for 15 months.

"Long story short, with this design it would not be necessary to close the L train tunnel at all, which would be a phenomenal benefit to the people of New York City," Cuomo said. "There would need to be some night and weekend closures of only one tube, so service would still work." You can tune into the presser live here.

[UPDATE // 1:30 p.m.] Mary Boyce, the dean of Columbia's engineering school, and Lance Collins, the dean of Cornell's engineering school, have spent the better part of 30 minutes talking about the technical aspects of their recommendations (see slides above), which include using LIDAR and "smart technology" that allow for the constant monitoring of tunnel conditions, allowing workers to identify areas of deterioration before they become problem sites.

"No closure of the service is necessary with this new design," Boyce says. "[The work] can be completed with weekend and night time closures and doing it one tube at a time. This leaves one train always available to do the back and forth."
The post Cuomo is shutting down the L Train shutdown! appeared first on Free Williamsburg.